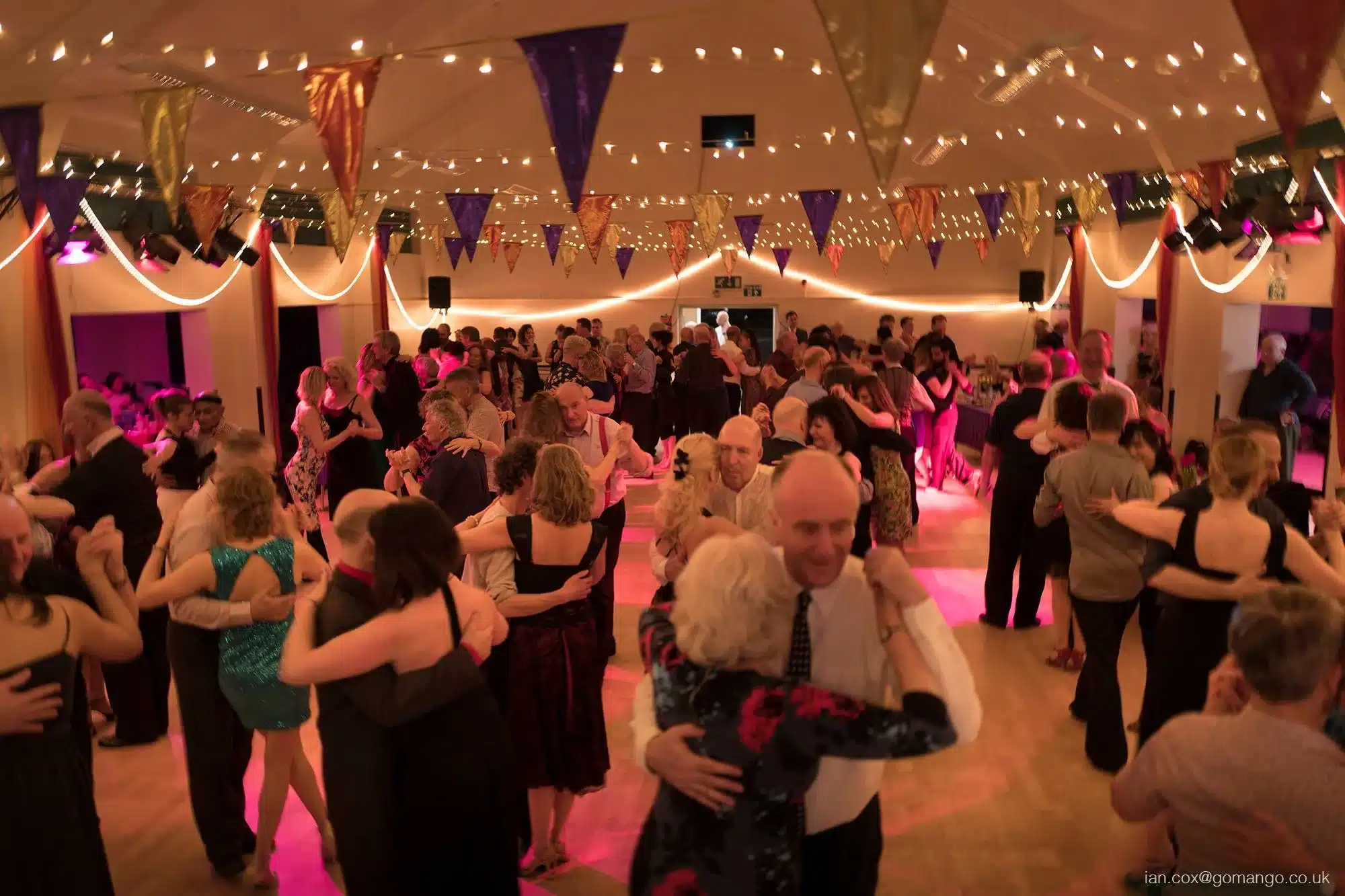 Etonathon
A special extended Tango event at Christmas time, with fantastic Tango music and dancing on a gorgeous dance floor over 5 days. There'll be afternoon milongas and evening milongas, culminating in a special New Years Eve milonga.
Hours and hours of dancing to the best Golden Age Tango, Vals and Milonga from a team of favourite DJs
Enjoy considerate floorcraft, and traditional codigos such as the Cabeceo.
Savour the charming hall with a brand new sprung dance floor.
There's great quality sound from a 360° professional sound system.
Above all, there'll be a friendly welcome and atmosphere.
𝐖𝐞𝐝𝐧𝐞𝐬𝐝𝐚𝐲 𝟐𝟕𝐭𝐡 𝐃𝐞𝐜
14:00-18:00 DJ: Ivan Lim
19:30-23:30 DJ: Deya Sanchez
𝐓𝐡𝐮𝐫𝐬𝐝𝐚𝐲 𝟐𝟖𝐭𝐡 𝐃𝐞𝐜
14:00-18:00 DJ: Kyla Mares
19:30-23:30 DJ: Richard Slade
𝐅𝐫𝐢𝐝𝐚𝐲 𝟐𝟗𝐭𝐡 𝐃𝐞𝐜
15:00-18:45 DJ: Claudia Ohde (𝘕𝘉 𝘭𝘢𝘵𝘦𝘳 𝘴𝘵𝘢𝘳𝘵 𝘵𝘪𝘮𝘦)
19:30-23:30 DJ: David Thomas
𝐒𝐚𝐭𝐮𝐫𝐝𝐚𝐲 𝟑𝟎𝐭𝐡 𝐃𝐞𝐜
14:00-18:00 DJ: Jalal Ito
19:30-23:30 DJ: Beto Ortiz
𝐒𝐮𝐧𝐝𝐚𝐲 𝟑𝟏𝐬𝐭 𝐃𝐞𝐜
14:00-18:00 DJ: Katerina Stoyanova
20:00-00:30 𝙉𝙚𝙬 𝙔𝙚𝙖𝙧𝙨 𝙀𝙫𝙚 𝙈𝙞𝙡𝙤𝙣𝙜𝙖 DJ: Charles Long
Old Windsor Memorial Hall
Straight Road, Old Windsor, Berks SL4 2RN
Really easy to find
Loads of free parking
New, sprung, maple dance floor
Excellent 360° sound system
Free Wi-Fi
Just 10 minutes away from Eton
Easy to reach from M4, M25 or M3
And a there's pub over the road
Prices and discounts 
We make it as easy as possible for you at Etonathon; there's no need to book in advance, just come along when it suits you!
Pick & choose the milongas…
No need to reserve your places…
No need to pay in advance…
No need to bring a dance partner…